The Book Centre

Explore over 500,000 different books and resources in the Book Centre
The Madeleine Lindley Book Centre offers the most extensive and largest selection of children's books and educational resources in the UK. Our collection of over 500,000 different titles from more than 250 publishers offers plenty of choices to inspire a love of reading in the next generation of bookworms.
Everything you need under one roof!
Our one-stop shop and services have been popular with teachers and educational specialists alike for the past few decades. Whether you are looking for imagination stimulating picture books, magical novels, beautifully illustrated non-fiction books or colourful, high-quality puppets, the Book Centre has it all under one roof!
The shelves at the Book Centre are bursting with only the best and latest books for children and their teachers - keeping our eye on wonderful new releases and never forgetting the classics. Its layout is carefully thought out and well organised into curriculum areas to make browsing and buying easier for our customers. We are confident that anyone who spends an hour or two browsing our large range of books will leave with plenty of fresh educational ideas.
Our knowledgeable staff can help you select the best resources from our comprehensive selection to best match your curricular requirements and stock your library or classroom with the most up-to-date literature. The literary experts at Madeleine Lindley are always happy to lend a helping hand and answer any questions necessary.
Visitors always welcome
Visitors are always welcome at the Book Centre during our opening hours: Monday through Friday, 9:00 a.m to 5:30 p.m. and Saturday, 9:00 a.m. to 12:30 p.m. Every time a visitor enters through our doors, Madeleine Lindley's helpful staff always ensure they are greeted with a warm welcome and offered tea or coffee. If you are planning a visit in a large group or looking for books on a particular topic, please don't hesitate to contact our team in advance to accommodate your needs.
After choosing some of the excellent and inspiring books we stock, it is possible to either pay directly in store or invoice the amount to your associated school or institution. Books and resources purchased at the Book Centre can be taken with you after your visit or delivered directly to your school via our mail order service. We also offer an international mail order service and have long delivered to schools across the globe.
Contact us to learn more: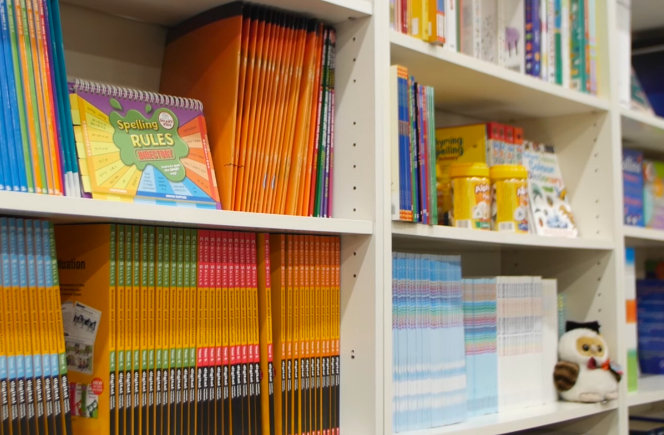 INSET days
Our Book Centre is the perfect place to host your INSET days. It provides a relaxed atmosphere ideal for focussing on the books needed to deliver your school curriculum.
Our conference room is available to hire and you can pre-order lunch on these days, that way you can make full use of everything we have to offer, including our considerable selection of books and resources.

Explore The Book Centre